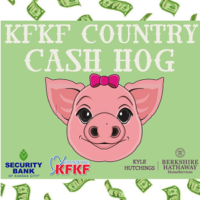 KFKF has a brand new KF Country Cash Hog!!! Meet Patsy Swine!!
Plenty of lipstick on this pig with 3 chances a day to win $1,000!!
Listen at 8:30, 11:30 and 4:30 for the keyword BELOW-  We'll have two $1 thousand dollar winners a day!!
This is a national contest so we need KFKF listeners to hog as much cash as possible!
Powered by: Kyle Hutchings at Berkshire Hathaway  and Security Bank of Kansas City