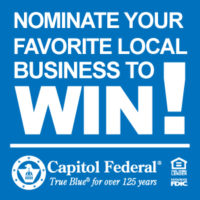 Capitol Federal® is THE bank in Kansas City to provide True Blue® service, with local support, for local businesses. Capitol Federal is business ready with…
– Dedicated Support
– Knowledge of Your Business
– Competitive and Flexible Terms
– A Full Suite of Business Services
To learn more, click here.
2020 and 2021 have been difficult years for local businesses and 94.1 KFKF and Capitol Federal are here to support our communities and our small business owners.
If you are a local business, or you know of a deserving local business, ENTER HERE for a business to win $1000 and a $5000 advertising schedule from 94.1 KFKF!
Thanks CapFed®!
Check out Capitol Federal's YouTube channel for local business spotlights!
Click HERE for our general contest rules|