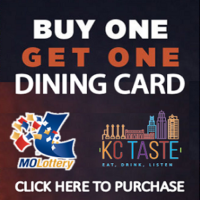 KC Taste is back….But virtually!
Help us support local restaurants with the KC Taste Dining Card, presented by the Missouri Lottery! For only $25 you get a special "Buy One, Get One FREE" offer valid at 11 participating local restaurants. Plus, the first 300 cards will receive a FREE GIFT from Missouri Lottery.
Support your local restaurants and purchase yours today HERE!