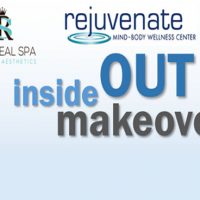 Inside Out Makeover- Fall 2017
Carolyn's 4th Blog Post 
27 1/2 pounds… I have lost 27 1/2 pounds. I would never have thought back in December when I started this that I would be saying that. The month of February was very rough. We had a lot of sickness. I mean a lot, Bo missed almost the entire month due to being sick. It was very hard eating right and keeping my mind straight. I had to think outside the box. I had started exercising some, but not a ton due to the terrible sickness going around.
So 2 weeks ago I started Pilates. Yep, something I have never done. I was so scared the first day. Pilates 1901 on State line. Oh my gosh. It's so amazing. It's relaxing and hard. Put that with the tools I have gotten from Dr Joe. I had gained 4 pounds and I was so discouraged. Dr Joe reminded me that this is a marathon not a sprint. I am only 3 1/2 months into a life change. That's what this is, learning to keep the weight off, is a lifelong goal. I knew it wasn't going to be easy. I have a class booked every single day this week. Doing that and being where my relationship is with food, I am certain I will be at the 30 pound mark in no time. I can honestly tell you that after the month we have had the month of March HAS to be better? I think a fresh new place like Pilates 1901 is the exact push I was needing. Combine that with my plan from Rejuvenate Mind, body and wellness, I can't wait to see what my results are!! Stay tuned…
Contact Carolyn HERE with any questions you may have about her journey!
Congratulations Carolyn! Down 27.5 lbs! Way to go!