Dale's 21 City Tour
Brought to you by: Cable Dahmer- Chevrolet and GMC- The Truck People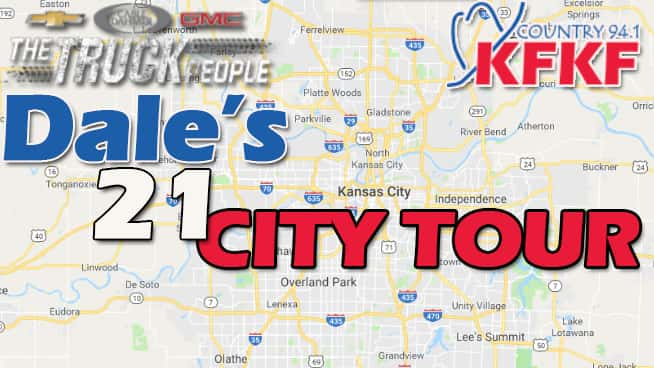 We will be all over Kansas City this summer with our friends at Cable Dahmer- Chevrolet and GMC- The Truck People for Dale's 21 City Tour! Stop by one of the stops listed below and get your tickets for Throwback Throwdown with Mark Chesnutt, Diamond Rio and Tracy Lawrence at Providence Medical Center Amphitheater on Friday September 7th! Plus the first 21 people there will get a KFKF Cable Dahmer "Take Me Backstage" t-shirt. If we catch you wearing the shirt to the show we just might surprise you passes to go BACKSTAGE! Stop by and see us at one of the stops listed below:
June:
Wednesday June 27th: 11am-12pm- Gardner– Minit Mart (390 N. Moonlight Road, Gardner, KS 66030)
Saturday June 30th: 1p-2p- Grandview– Xtreme Truck & Auto (13100 US-71, Grandview, MO 64030)

July: 
Saturday July 7th: 11am-12p- Prairie Village – Hy-Vee (620 State Line Rd, Prairie Village, KS 66208)
Wednesday July 11th: 11am-12p- Leavenworth– Minit Mart (3122 S. 4th Street, Leavenworth, KS 66048)
Friday July 13th: 11am-12p- Lee's Summit– Hy-Vee (301 NE Rice Road, Lee's Summit, MO 64086)
Saturday July 21st: 11am-12p- Pleasant Hill – Price Chopper (2101 MO-7, Pleasant Hill, MO 64080)
Wednesday July 25th: 11am-12p – Overland Park – Scheels (6503 W. 135th St., Overland Park, KS 66223)
August: 
Wednesday August 8th: 11a-12p – Grain Valley – Brass Armadillo (1450 Golfview Dr., Grain Valley, MO) 
Saturday August 11th: 11a-12p – Kearney – Orscheln (901 W. 92 Highway, Kearney, Mo 64060)
Saturday August 18th: 11a-12p – Excelsior Springs – Wabash BBQ (646 Kansas City Ave S, Excelsior Springs, MO 64024)
Saturday August 25th: 11a-12p- Liberty– Hy-Vee (109 N. Blue Jay Dr., Liberty, MO 64068)
Check back for more stops coming soon!
Thanks to Cable Dahmer- Chevrolet and GMC- The Truck People